See on Scoop.it – Global Leaders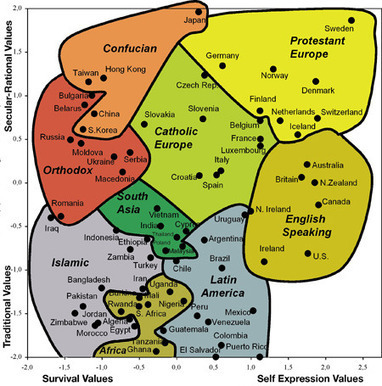 Click here to edit the title
Anne Egros's insight:
The World Values Surveys were designed to provide a comprehensive measurement of all major areas of human concern, from religion to politics to economic and social life.
Two dimensions dominate the picture: (1) Traditional/ Secular-rational and (2) Survival/Self-expression values.
These two dimensions explain more than 70 percent of the cross-national variance in a factor analysis of ten indicators-and each of these dimensions is strongly correlated with scores of other important orientations.
The results of this type of surveys must be used with caution as people behaviors are changing pretty fast based on economic development, new technologies, globalization and communication tools such as internet or mobile phones.
Other theories of cross-cultural communication are drew from the fields of anthropology, sociology, communication and psychology and are based on value differences among cultures. Edward T. Hall, Geert Hofstede, Fons Trompenaars, Shalom Schwartz and Clifford Geertz are some of the major contributors in this field.
My Favorite tool is the Five  Hofstede's Intercultural Dimensions 
See on www.worldvaluessurvey.org
Related articles