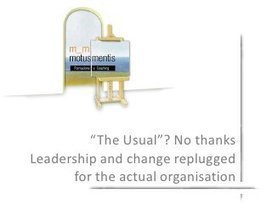 Not another change initiative? Some ideas on how change really works and implications for leaders. (See on www.slideshare.net )
Anne Egros's insight: Great presentation!
What's new about leadership ?
No more top down approach. Leaders must deal with rapidly evolving times in the era of social networks, tribes, multiple locations, identities and cultural diversity.
Senior managers won't overcome established routines and competing interests by giving lectures. More than ever, we are talking about revolution, no more quiet evolution and leaders must be part of the system, feel it and find links among smaller groups randomly distributed in the organization to get enough momentum for change.
Viral leaders think organizations are like a human body, they strategically  "infect" the network with suggestions via the right people. New ideas usually start from small groups of early adopters and then spread in the whole system when it is clear that new behaviors and new processes have meaning and benefits.
For me the next level of evolution of viral leadership is "bio leadership" using ideas as stem cells that have the potential to become any type of cell in the body. One of the main characteristics of stem cells is their ability to self-renew or multiply while maintaining the potential to develop into other types of cells. With stem cells, the body does not recognize them as "external objects" like viruses.
Bio leaders need to identify and enable agents of change, rule breakers and other creative people in various groups within the organization itself so immunity and resistance to change is minimized. Then those people can not only spread new ideas but also help develop highly personalized solutions for different types of challenges such as launching a new product in different countries and cultures.
See on www.slideshare.net